Local Booking Manager has the option to create contracts by merging them with the appropriate template. Templates are created by MMK systems according to your requirements and match your standard contracts as much as is technically possible.
Templates are supplied in .dot format and are meant to be used without further modifications.
Merging the template
Once you have the template it should be saved in an easily accessible location as it has to be merged to each reservation separately.
Template can contain information about the agent or guest or both. Therefore both have to be entered in the Address book so the template has the information to merge.
Once you select Agency/Client (1.) in Reservation details and/or Guest name (2.) you can proceed to select the contract template for merging by clicking on the appropriate icon (3.).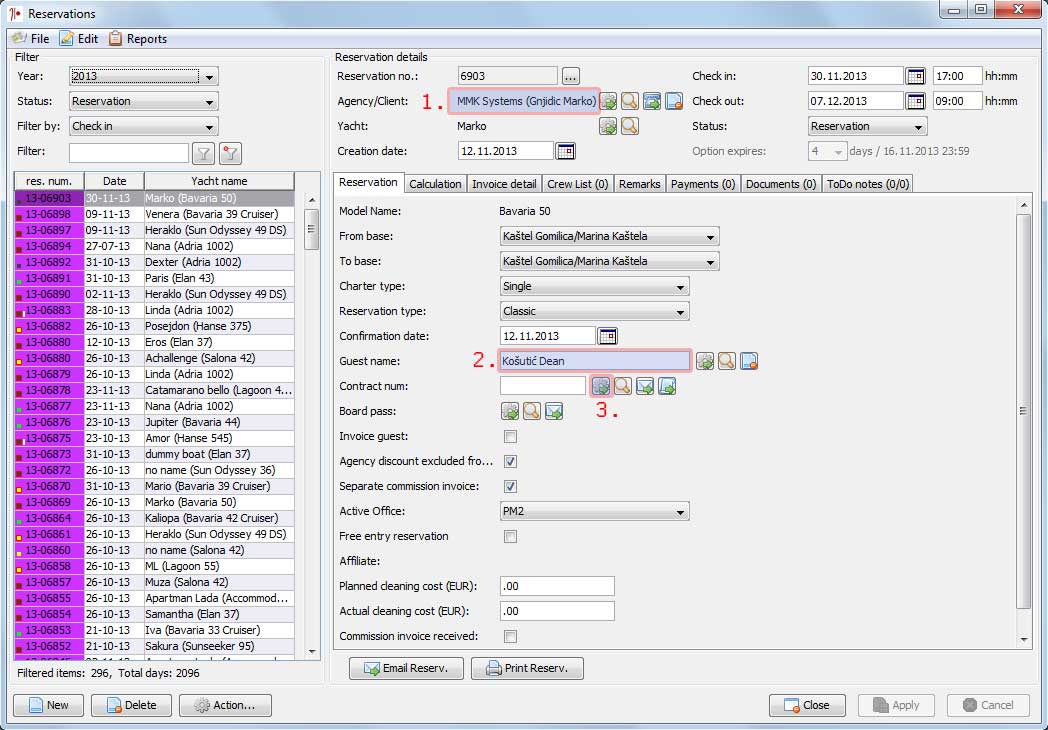 Next, find the location where you saved the template and select it (1.) and press Open (2.)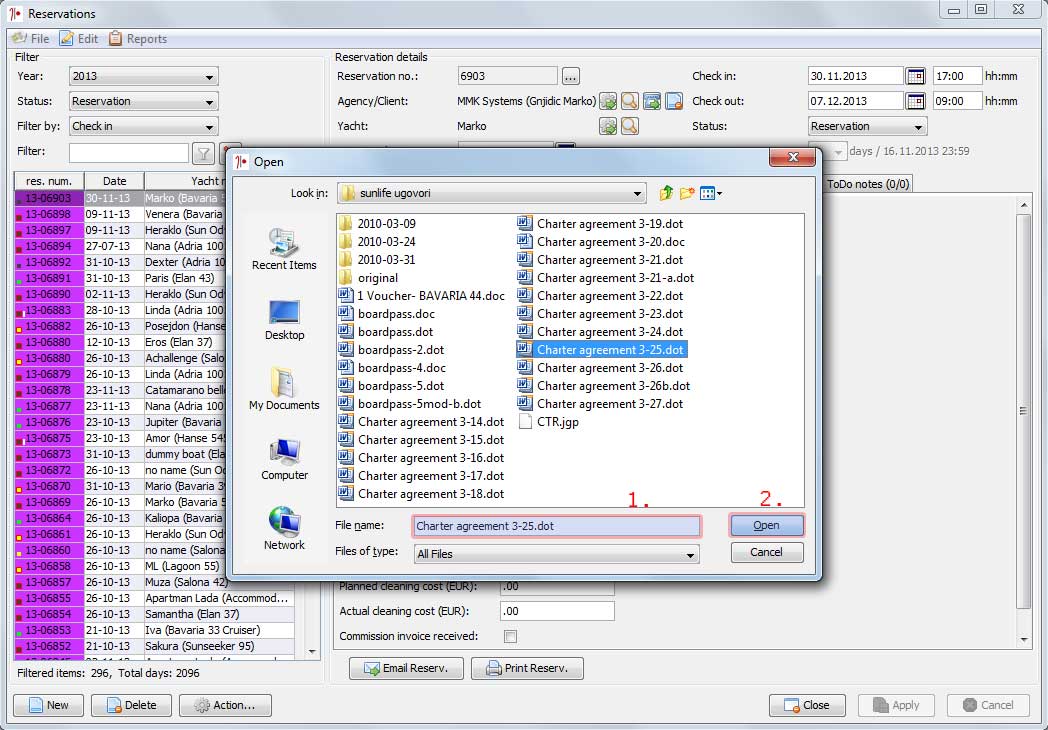 If the template is in correct format LBM will alert you that it has detected the template and will try to fill it, so press Ok (1.).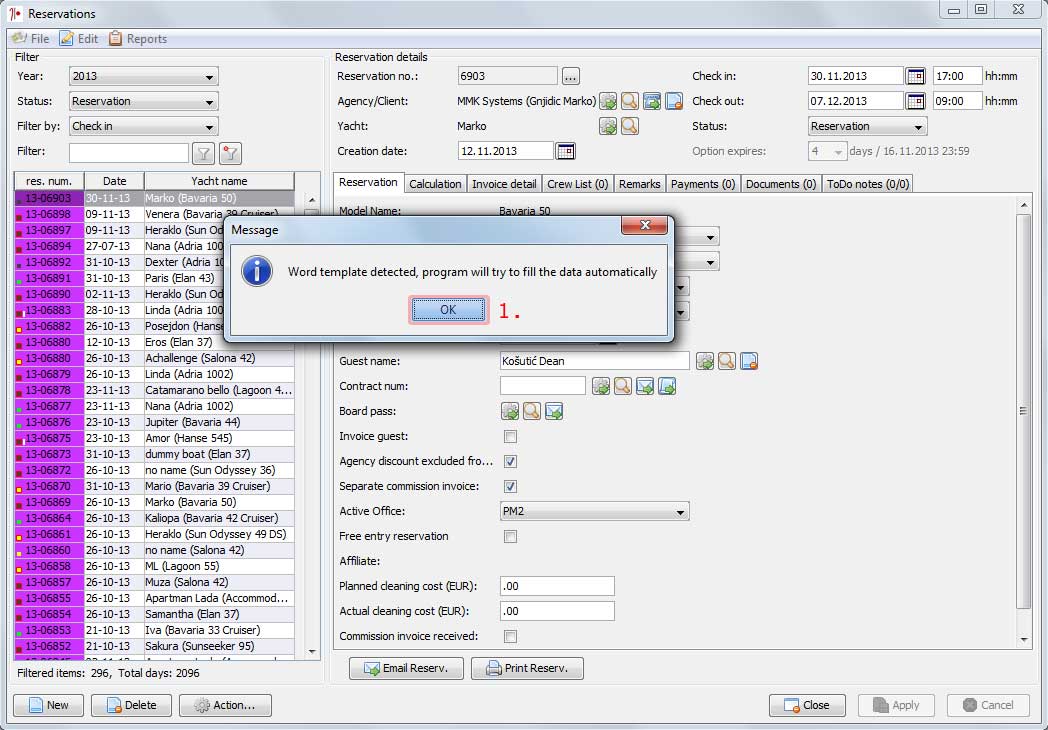 When the contract is merged LBM will generate the Contract number and you can open the merged contract in Word by clicking on magnifying glass icon (2.).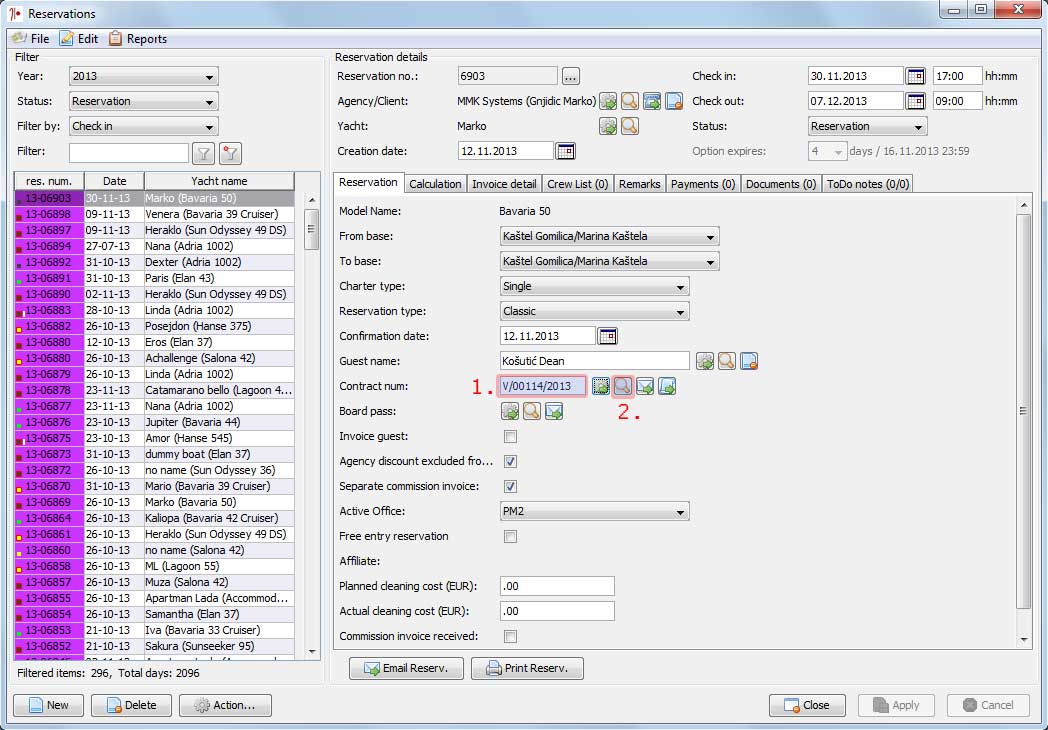 When you open the contract in Word you can inspect the merged data.
The merged contract contains the fixed data, like your logo, company info, bank details etc. and merged data.
In this example the merged data from the reservation is as follows:
Contract number assigned by LBM (it can also merge Reservation number)
Data of the agent placed in reservation details
Name of the guest (in addition it can merge address, city and other data from the address book)
Boat model and no. of cabins (also can merge boat name or other technical detail like length, no. of berths etc.)
Check in and Check out dates, times and bases (shows if charter is one way)
Port of delivery - usually the check in port
Base price, discounts (predefined number of them) and total price (instead of individual discount prices it can show total sum of discounts instead, total can be with or without agency commission)
Payments - amounts of first and second payment and due dates (it can also show percentage of payments and amounts can either with or without agency commission)
Security deposit as defined on the boat in question
List of extras paid in base and their price as in calculation (predefined number of them)
Confirmation date of the reservation