Booking Manager allows you to enter your own payment methods by using Payment method editor.
First go to Setup (1.) > Payment method editor (2.).

When you enter Payment method editor to enter a new method click on New (1.), in the popup window enter the name of the method (2.) and press OK (3.)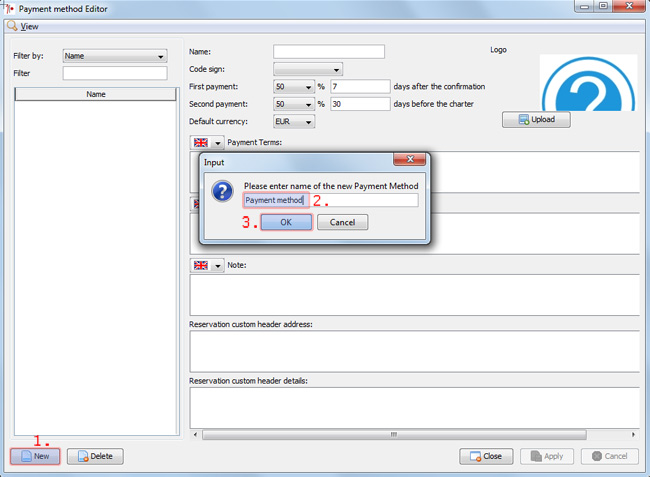 Next, select the 1st payment percentage (1.) and when it is due to be paid (2.), select the 2nd payment percentage (3.) and when it is due to be paid (3.) and set the default currency (5.) for the method.
Then enter the Payment terms (6.), Bank details (7.) and Note (8.) if required and press Apply (9.). These 3 items are visible on your documents like Booking confirmation etc.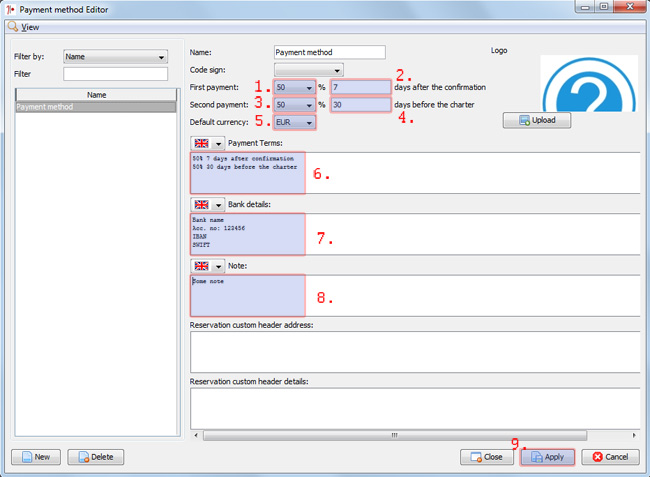 Once you entered basic information about the payment method you can click and select a different flag to enter translations for Payment terms (1.), Bank details (2.) and Note (3.).
As a further option and if it is required you can even set the custom header address (4.), header details (5.) and upload a custom logo (5.) if it is to be used with the payment method on the documents.
When you are done press Apply (7.).