If you want to drastically simplify your way of doing business taxwise you are now able to work with allotment contracts.
Allotment agency contracts are common in Hotel industry and function in such a way that they define the price for an agent instead of the ahency commission.
This means that the contracts and invoices issued to such agents show the base price of the product automatically reduced in relation to the standard (client) price without the separate agency commission displayed in the calculation.
1. Assigning the Allotment contract
Open the Addressbook and select an Agent. Then under Misc (1.) you switch the Type of contract from Standard to Allotment (2.), assign Agent discount/commission (3.) and press Apply (4:)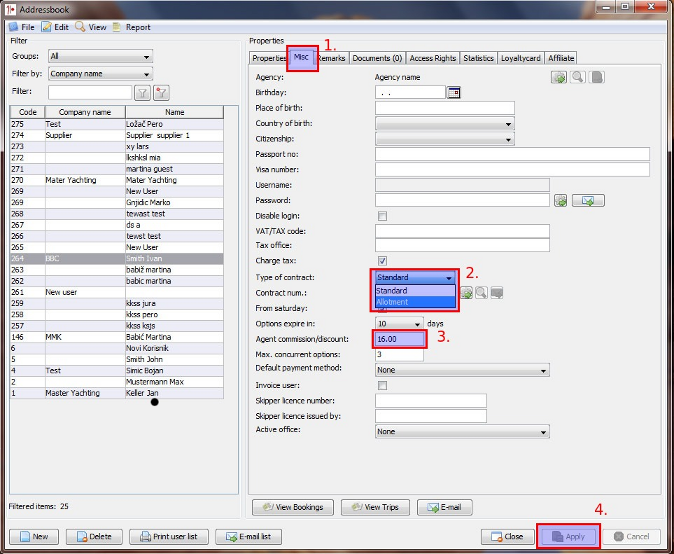 2. Reservation
When you make a reservation select Agency/Client (1.) in Reservation details and the Base price (2.) in Calculation will automatically be reduced by the percentage set for that particular agent.
The Agency discount item will also be removed from the calculation and not be shown (3.).
When you are finished, press Apply (4.).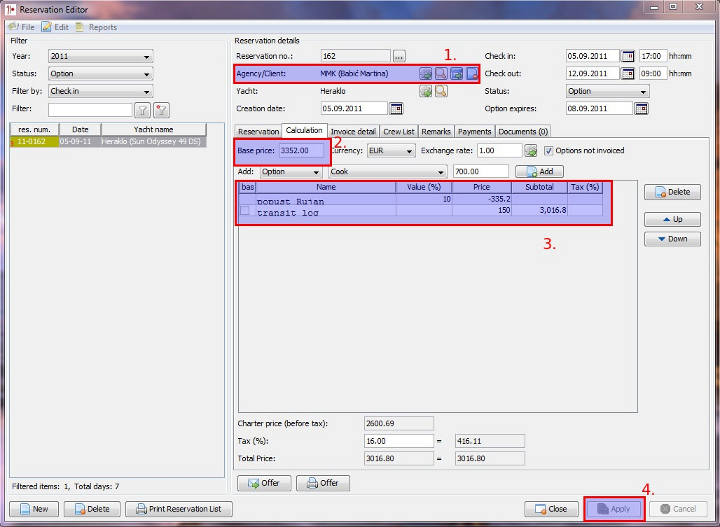 3. Changing the existing reservation
If you made the reservation before you assigned the allotment contract to the agent the reservation will not change automatically. In this case you will need to remove the Agency/client by pressing the remove button (1.) and Apply (2.)