Local Booking Manager can generate various reports with which you can monitor what is going on with your charter fleet.
One of such reports you can generate is the Chart Statistics report in which, among other, you have an overview of the total income generated by your fleet.
The report is generated from Reports (1.) > Chart statistics (2.)

Once you open the Chart Statistics you can change the filter to suit your needs.
1. Type - can be between countries (default) or for each country
2. Year
3. Granularity - week, month (default), quarter or year
4. Show - leave it at total income as that is what you want to see
5. By - sailing period (default) or booking period
6. Show - Top 5 is set as default, but you can select any or choose the top number to be one of the available options
7. put a check if you want the total for all countries to be included
Changing any of these options refreshes the view.
Further you can remove or add back countries by removing or putting the check beside each country (8.) and in this case you need to press Refresh (9.) to change the result.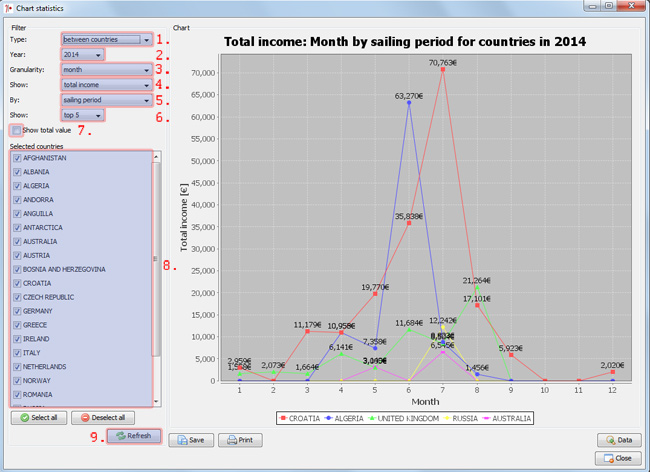 When Granularity is switched to year (1.) the chart will switch to show you the the total yearly income for current and past 4 years for comparison.