Note: If you are editing discounts on the Local Booking Manager see how here https://support.booking-manager.com/hc/en-us/articles/360002090111
Booking Manager charter portal allows you to setup discounts and lets you choose whether you want to add the discounts manually or to use a trigger so discounts are applied automatically depending on the trigger type.
The discounts are managed in My Account (1.) > Reservation Settings (2.). > Discounts Editor (3.)


When you open a new discount (1.) under it will have Trigger type set to No trigger (2.) by default. This means that the trigger has to be placed on the calculation manually.
This kind of discount is usually used for Boat show discounts or Regular/Repeater client discounts and it needs to be added manually on calculation.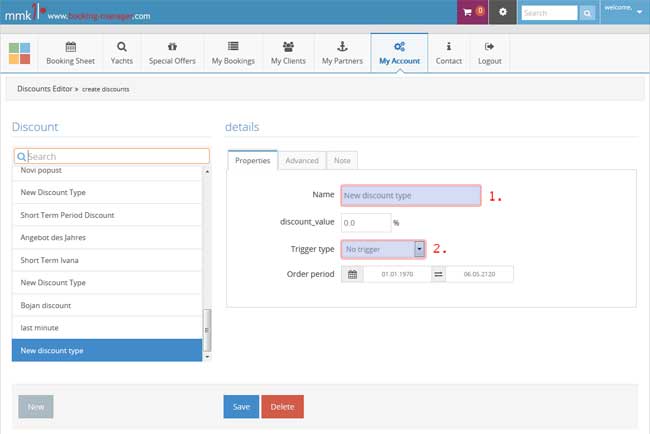 However if you want the discount to be applied automatically according to a certain criteria then you have 4 triggers available:
Service duration - applied if a charter lasts for a certain defined number of days, most common are Two weeks dicount, Three weeks discount
Reservation period - applied if a charter was booked in a certain period, for example you are offering Summer discount if agent makes booking until the end of February.
Service period - applied if charter is taking place in a particular period or it can be used for defining early booking discount
Last minute - used for last minute discounts within certain amount of days of check-in
Each discount can be set to exclude other discounts or whether it is affected by maximum discount or not.
Under Advanced setting you can define that discount will be Valid for base (1) Valid for kind (2) meaning catamaran, sailing boat, motor boat... Valid for model (3) Valid for sailing area (4) Valid for country (5) and if that discount excludes other discount or not (6).
After you're done, select Save (7).