Recent edition of Booking Manager portal introduced several new features that gave you more flexibility in offering best offers to your clients.
One of these recent features is the ability to manage your own offer of discounts regardless of charter company.

Now this feature is further enhanced by the ability to assign a discount to a certain sailing area.

To assign a discount to be valid only in certain sailing area enter the Discounts editor in My Account (1.)  > Reservation settings (2.) > Discounts editor (3.).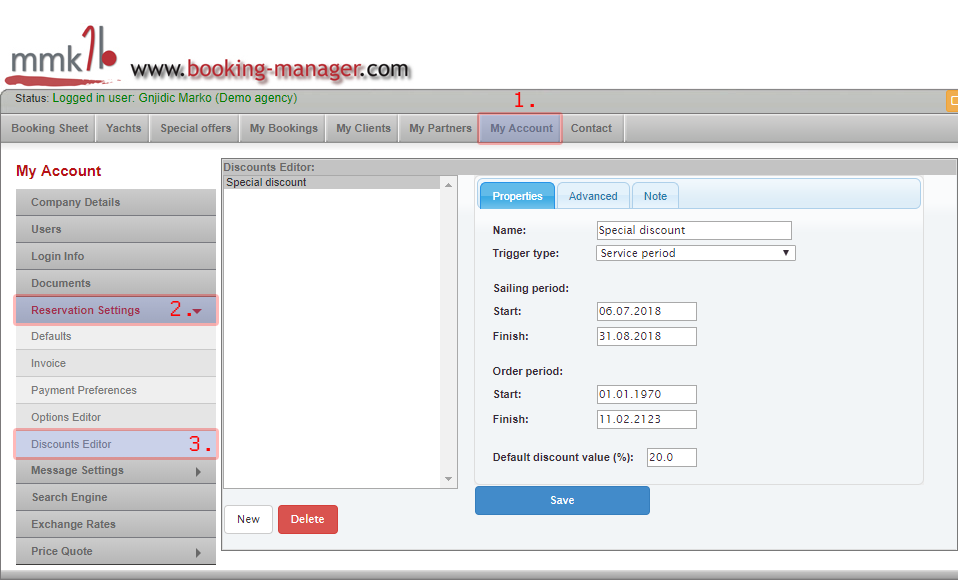 Open a new discount or select an existing one (1.). Set the Name, Trigger type etc. and then click on Advanced (2.).

You will find a window called Valid for sailing area (3.) where all sailing areas are listed.

Click on a sailing area for which the discount is supposed to be valid (4.). If the discount is valid in several sailing areas hold down CTRL key on your keyboard and click on as many sailing areas as is required.

Press Apply (5.) when done.