What is Planning Revenue?
Booking Manager, as the biggest Booking System on the market, created a revolutionary tool that provides charter operators with an accurate overview of the charter market in real-time. Planning revenue tool helps companies to plan their discounts automatically comparing their prices with their competitors on the market.
Booking Manager scans the whole System in real-time and shows you the total number of competitor boats in the region and average price, as well as the percentage of booked boats similar to yours. This insight allows you to instantly adjust your discount and get ahead of the competition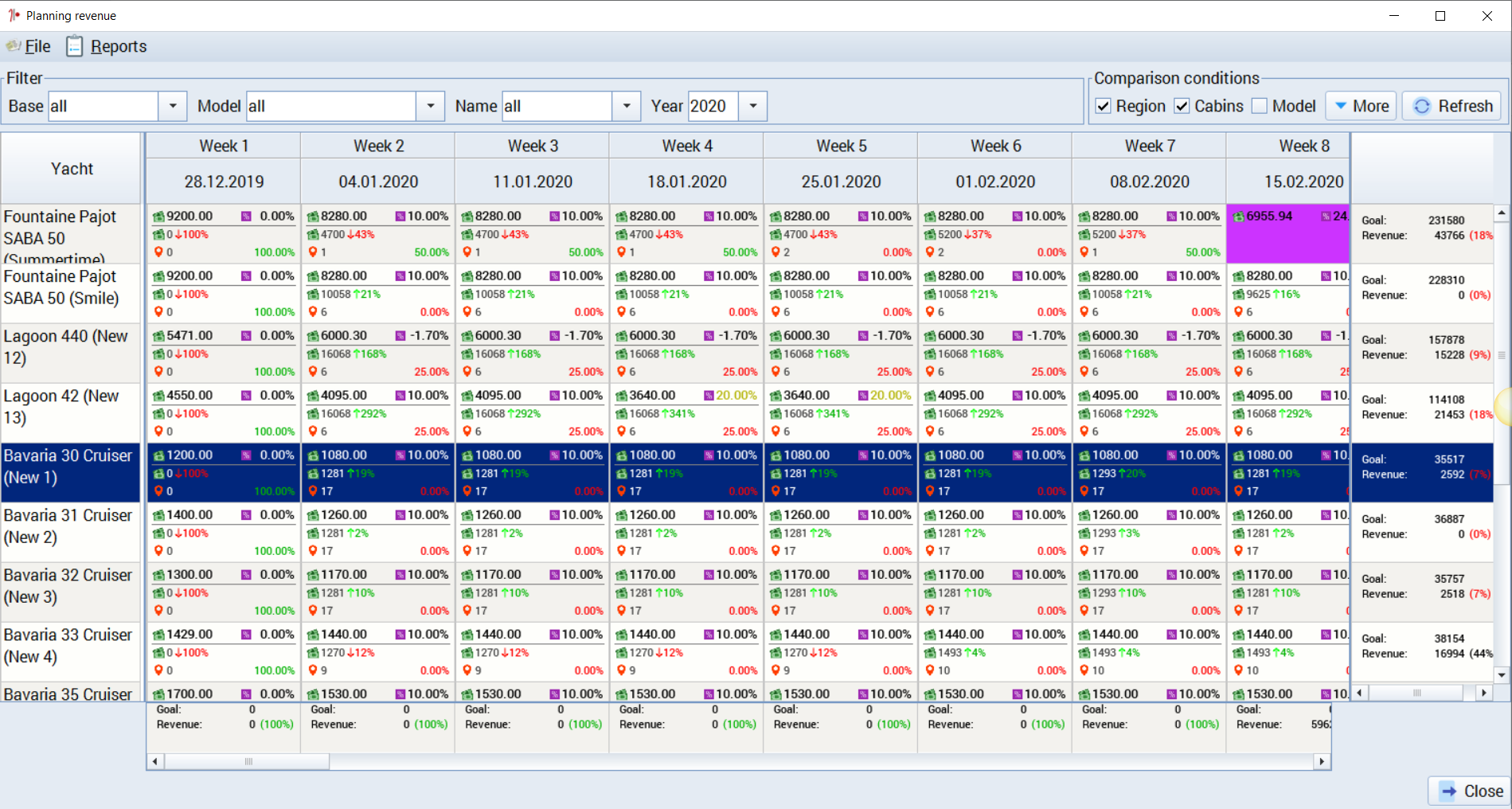 How to use Planning Revenue?
This planning module allows you to compare multiple scenarios that allow you to determine which action is the best for your business. Planning revenue will help you not to give discounts when not needed and modify prices when needed. Also, you can set up your targets per each boat or week and track the progress of your sales.
Open your Planning Revenue:
Go To Work
Choose Revenue Planning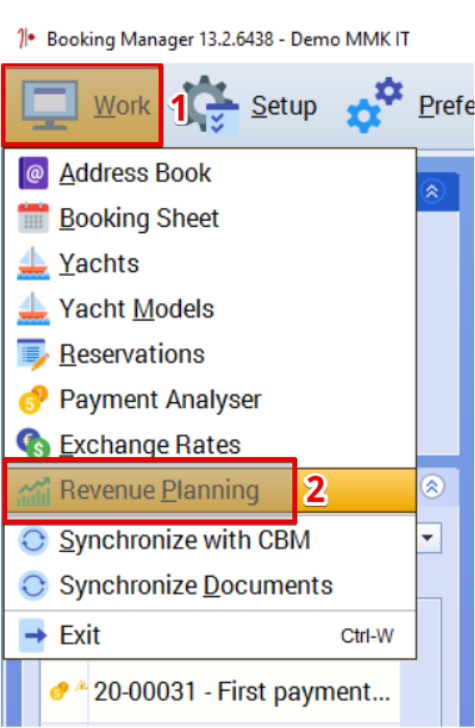 The first step should be setting up your comparison filters. From the beginning, Booking Manager divided boats into basic groups such as sailing yachts, catamarans, power catamarans, motorboats, motor yacht, and gulets. Additionally to basic separation, Booking Manager allows you to use the additional filters for comparison:
Region-Sailing area where the base is
Cabins
Model-Compares only with selected model
Product
Year
Lenght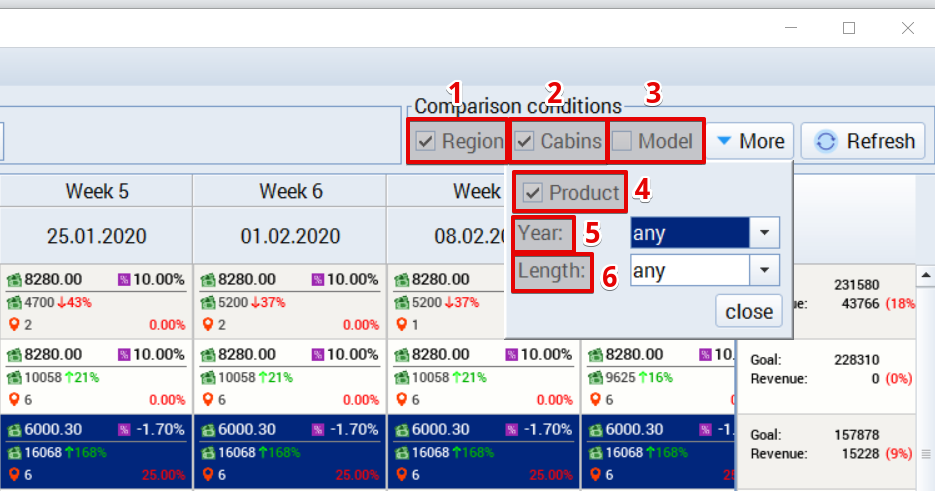 Every time you change any of the filters, the refresh button needs to be clicked so the system would generate new data.
With new Planning Revenue upgrade, Charter operators are able to extend their comparison criteria when it comes to boat year (up to +/- 3 years) and boat length (up to +/- 3 m) and compare their prices to specific products they offer such as crewed boats.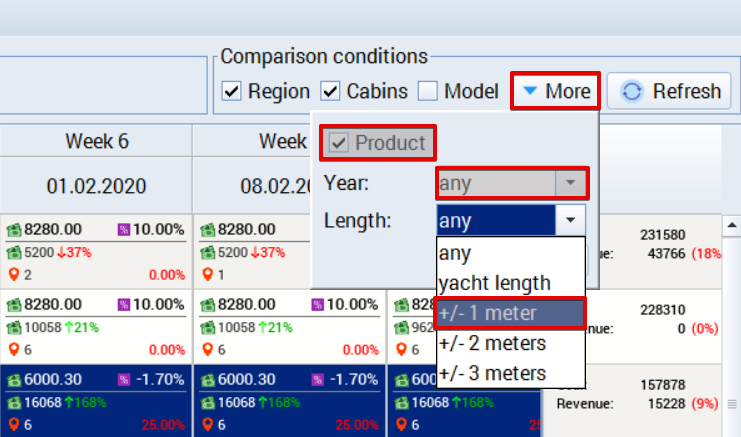 The next step would be to read the filtered comparison results. Here is what every field represents:

1. Price of your boat for a specific week
2. Your current discount for a specific week
3. The average price on the market of that boat type according to selected filters
4. Total number of competitor boats of that type
5. Occupancy - Percentage of booked boats of that type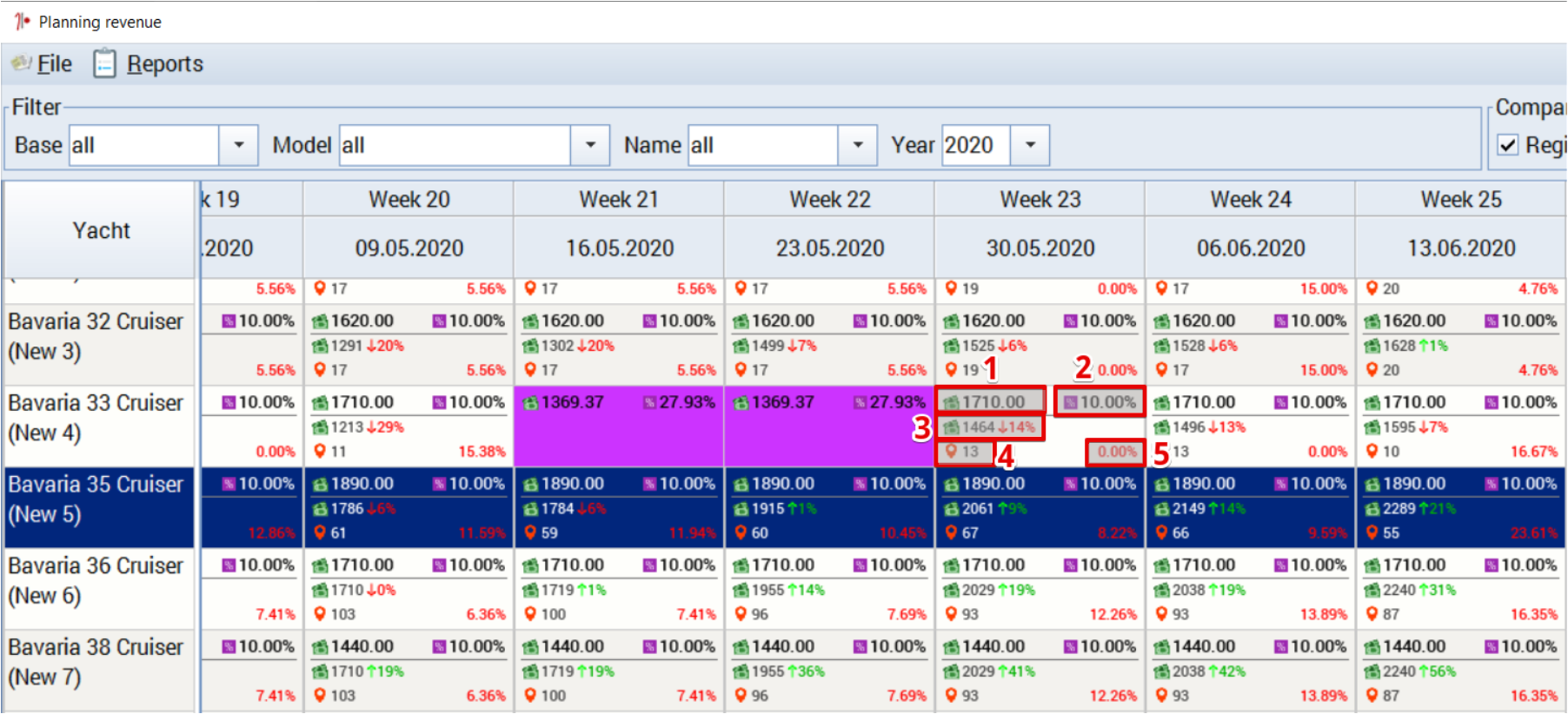 Percentages you see for the specific week give you information about how much your weekly prices are cheaper or more expensive and help you plan your discounts. In case percentages are in red, it means your price is higher than average and if they are green it means you are cheaper than your competitors.

In this example of a crewed catamaran we see:
Charter price is cheaper for 21% from the average price on the market regarding the selected filters
There are still 7 crewed catamarans available in the sailing region
56% of the total amount of the boats on the market are rented by now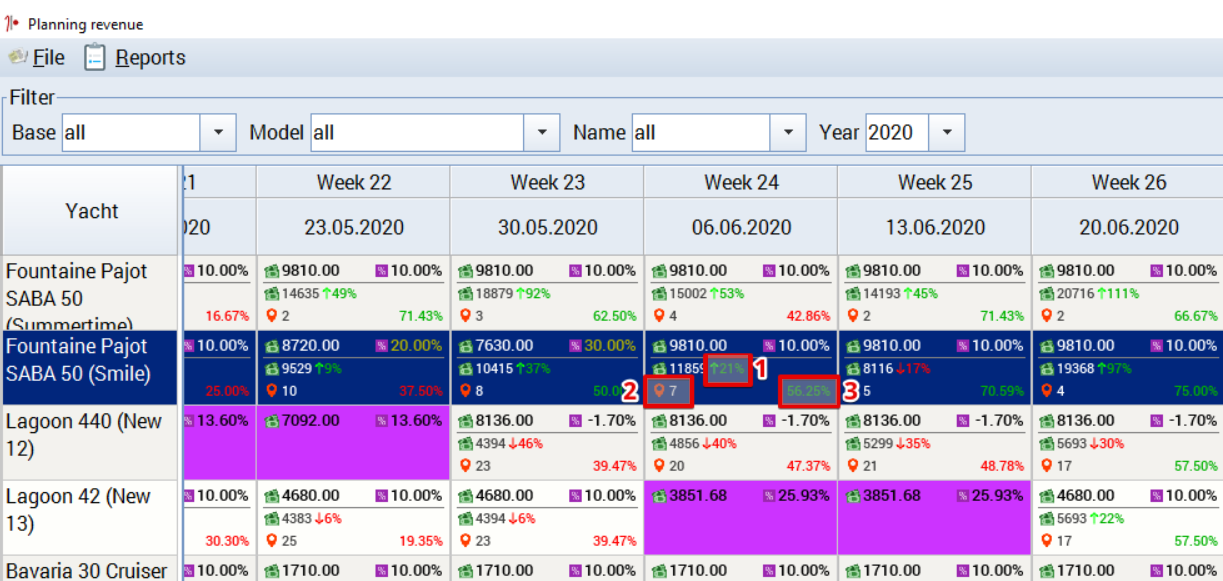 If results give you information that price adjustment should be done, you can do that easily through Planning Revenue by
Right mouse click
Change discount
or
Delete already applied Planning Revenue discounts

Once the discount is entered you are able to apply that discount on all the boats in the selected week:
Right mouse click
Apply discount to all yachts in this week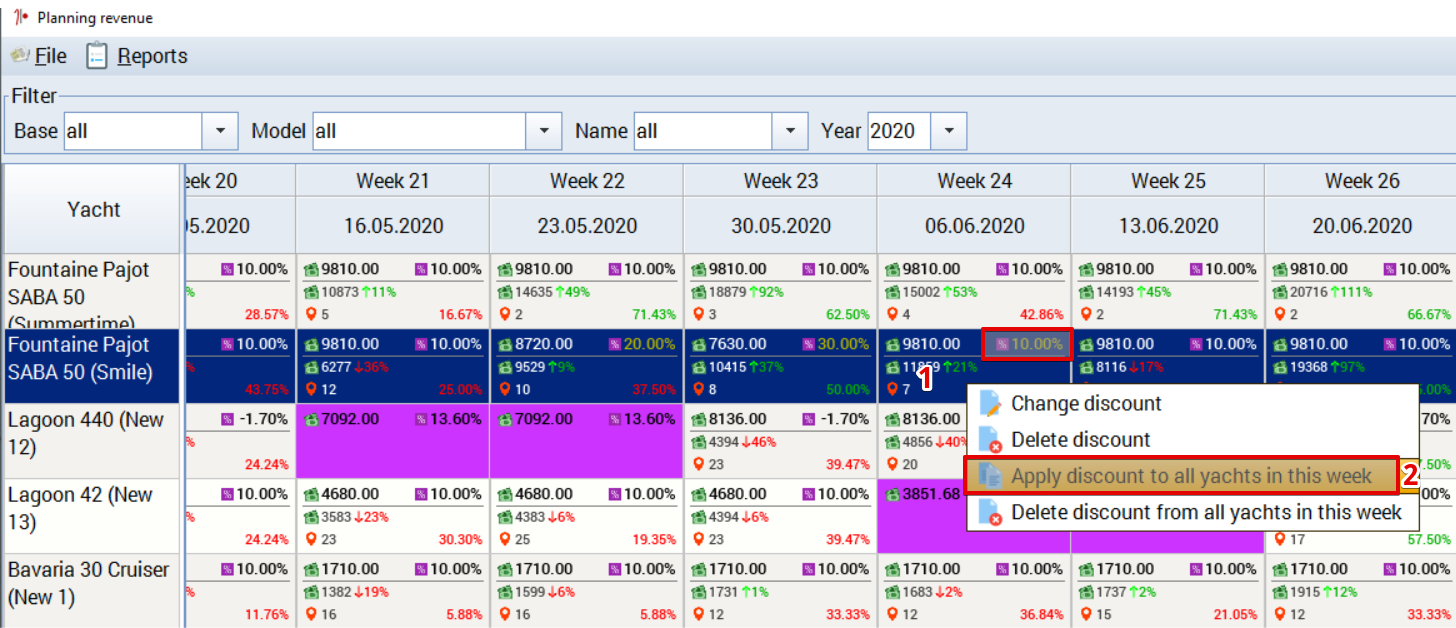 How to Set up your Weekly or annual Goals?
Planning revenue enables the Charter operator to set up goals weather per a specific boat on annual bases or per a specific week for all the boats in a fleet and track their current revenue.
This is how you can set it up:
Right mouse click to set up your Goal
Change Target
Set the new target
Apply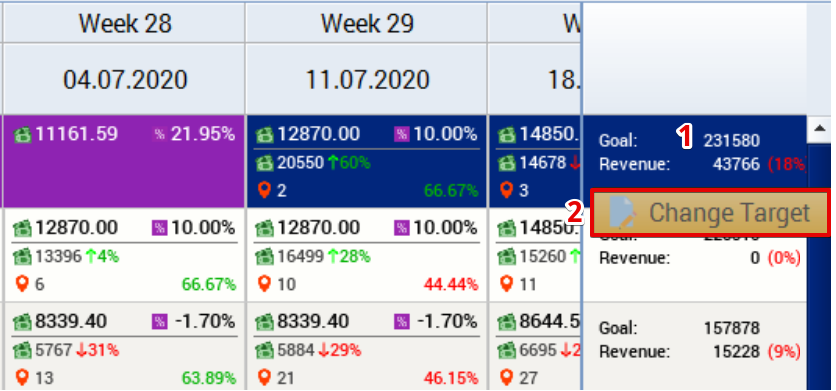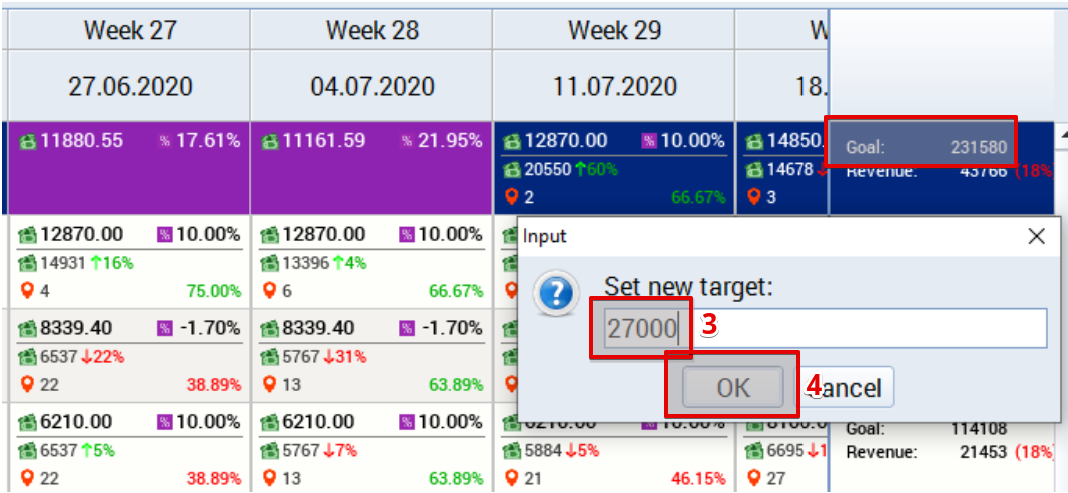 Once you add a new yacht, the system will set the default amount for the Goal, which depends on the charter price throughout the sailing year
Default amount set under Goal is 50% of what you would earn if the yacht was to be booked for the entire year (51-52 weeks).
Booking Manager adds together the prices you have, week by week, and then divides it by 2.
Objectively looking, boats are not booked for the entire year, which is why the default Goal is 50% out of the entire amount.
Note that when the default amount for the Goal is calculated, Booking Manager takes into consideration discounts as well.
Revenue is the amount based on the actual reservations, that is, the amount of money earned.
The percentage shows how much of the goal you have 'achieved' at the moment
Here is example,
The boat has prices for the whole year 5.000 EUR and it is booked for one week.
So if you have one week booked, you revenue is 5.000 EUR, which is 15% of the total goal 32 595
System calculates Goal 5000 * 13 (how many weeks in a year) : 2= 32.500,00


Revenue marks how much you actually earned and the percentage marks how much of the goal you have fulfilled.
Planning Revenue helps you to set your company targets, track the revenue, and adjust price dynamics to the market situation.