If you are struggling to fill out your boarding passes, inserting clients information manually, double checking to make sure everything is correct and wasting your precious time, Booking Manager has a solution for you.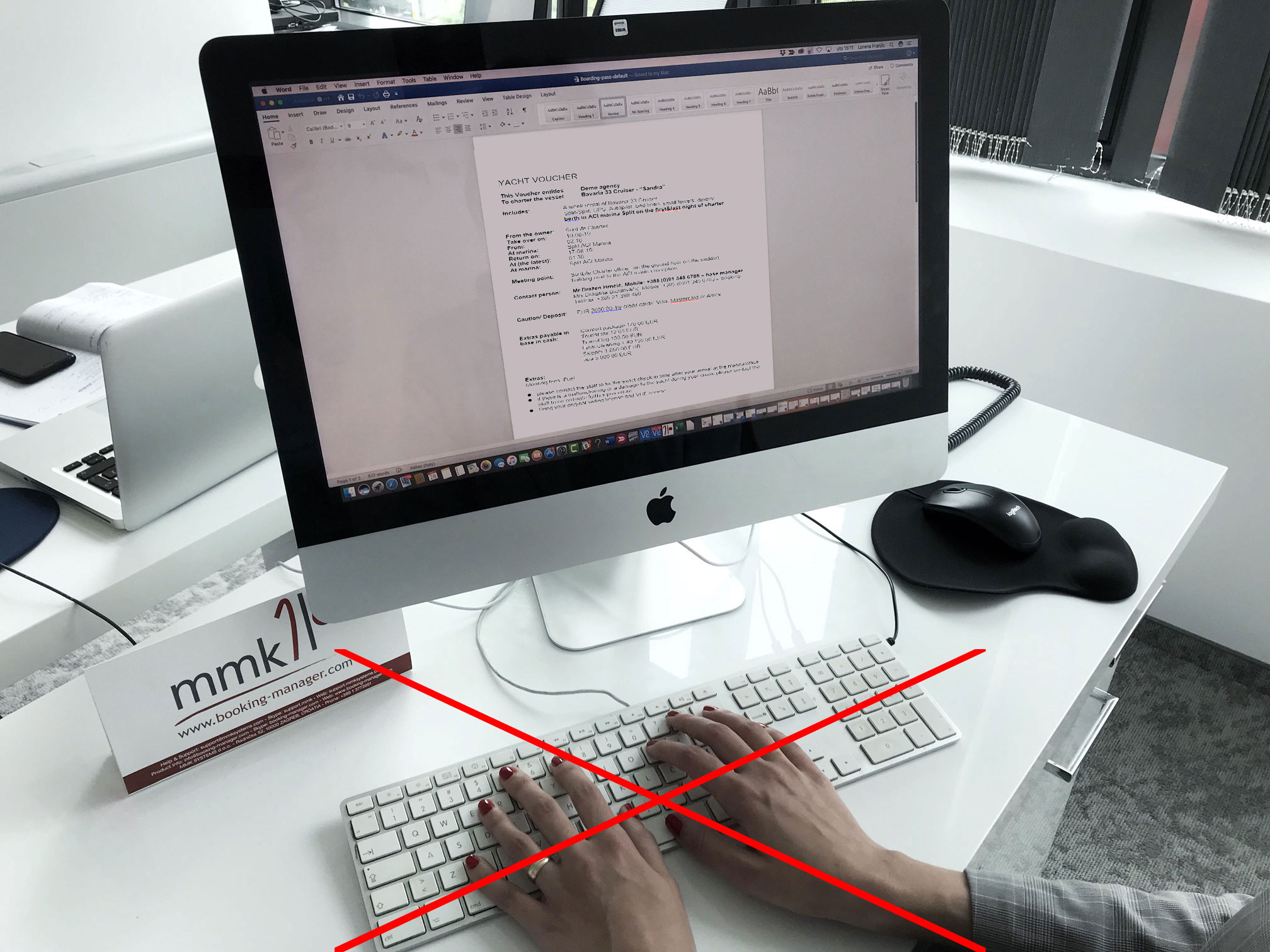 Send us your customized Word boarding pass document, and we will enable you to automatically merge data directly from your reservation into your boarding pass, making your work faster and easier.
Templates are created by MMK systems according to your requirements and match your standard board pass as much as is technically possible.
Merging the template
Once you have the template it should be saved in an easily accessible location as it has to be merged to each reservation separately, like your Desktop for example.
Select the Guest name (1.) from the address book, or if you just wrote the guest name you must save it to the address book by clicking on address book icon (2.) and then you can proceed to select the contract template for merging by clicking on the appropriate icon (3.).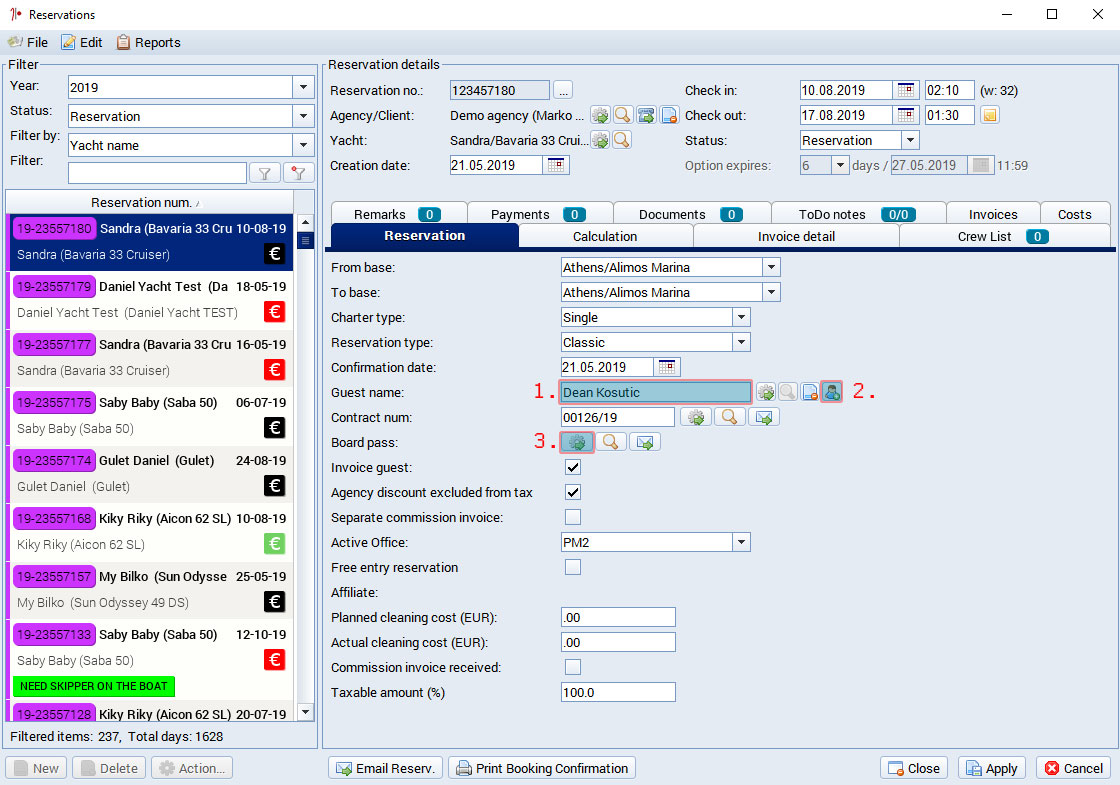 Next, find the location where you saved the template and select it (1.) and press Open (2.)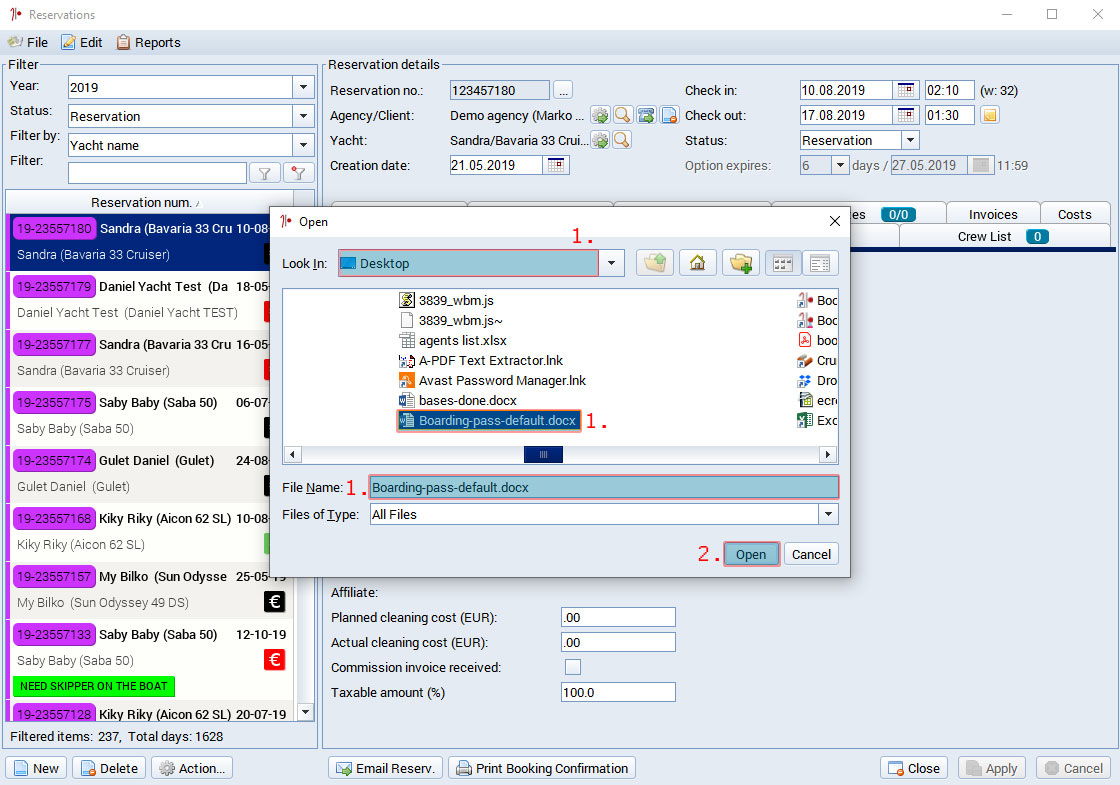 If the template is in correct format LBM will alert you that it has detected the template and will try to fill it, so press Ok (1.).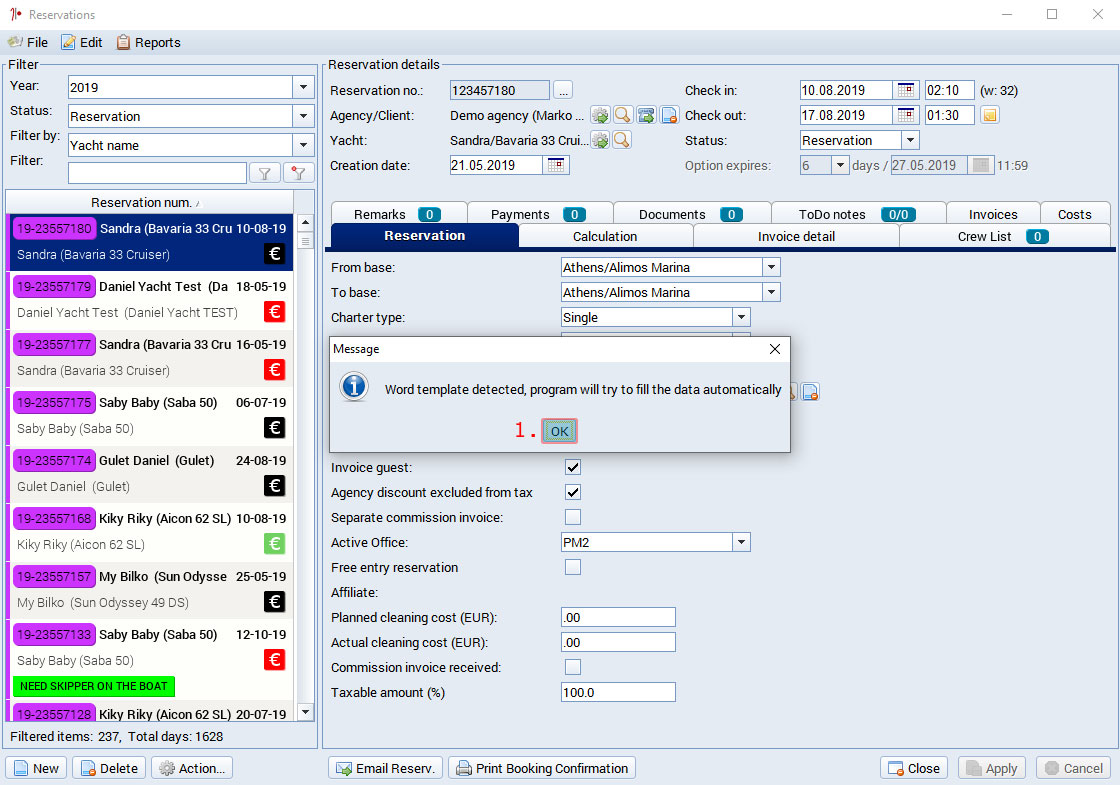 When the board pass is merged by LBM, you can open the it in Word by clicking on magnifying glass icon (1.).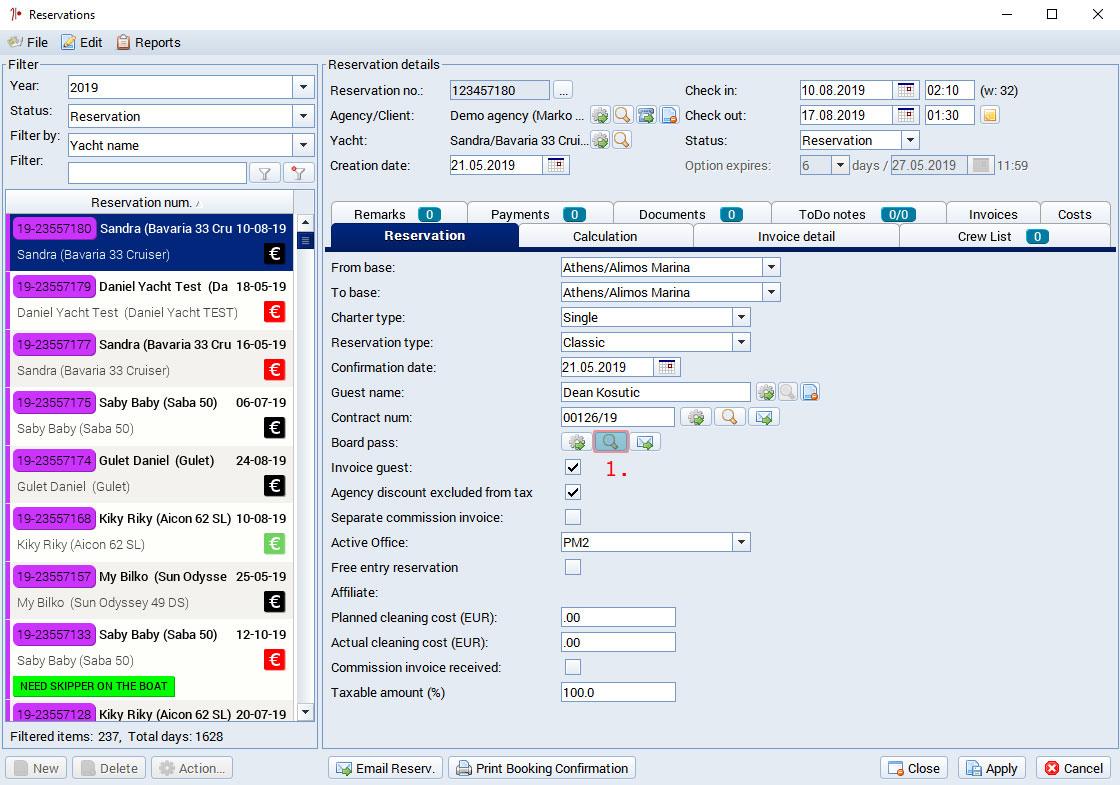 When you open the board pass in Word you can inspect the merged data.
The merged board pass contains the fixed data and merged data.
In this example the merged data from the reservation is as follows:
1. Full reservation info
- Name of the guest (in addition it can merge address, city and other data from the address book)
- Data of the agent placed in reservation details
- Yacht details - boat model, boat name etc. (it can contain other technical data)
- Check in and Check out information: dates, times and bases (shows if charter is one way)
3. Extras payable in base (if there are none on calculation, it will be empty)
4. Security deposit as defined on the boat in question
Fixed data in this example are:
2. Base info with your company data
5. Required documents and Note
6. Additional base information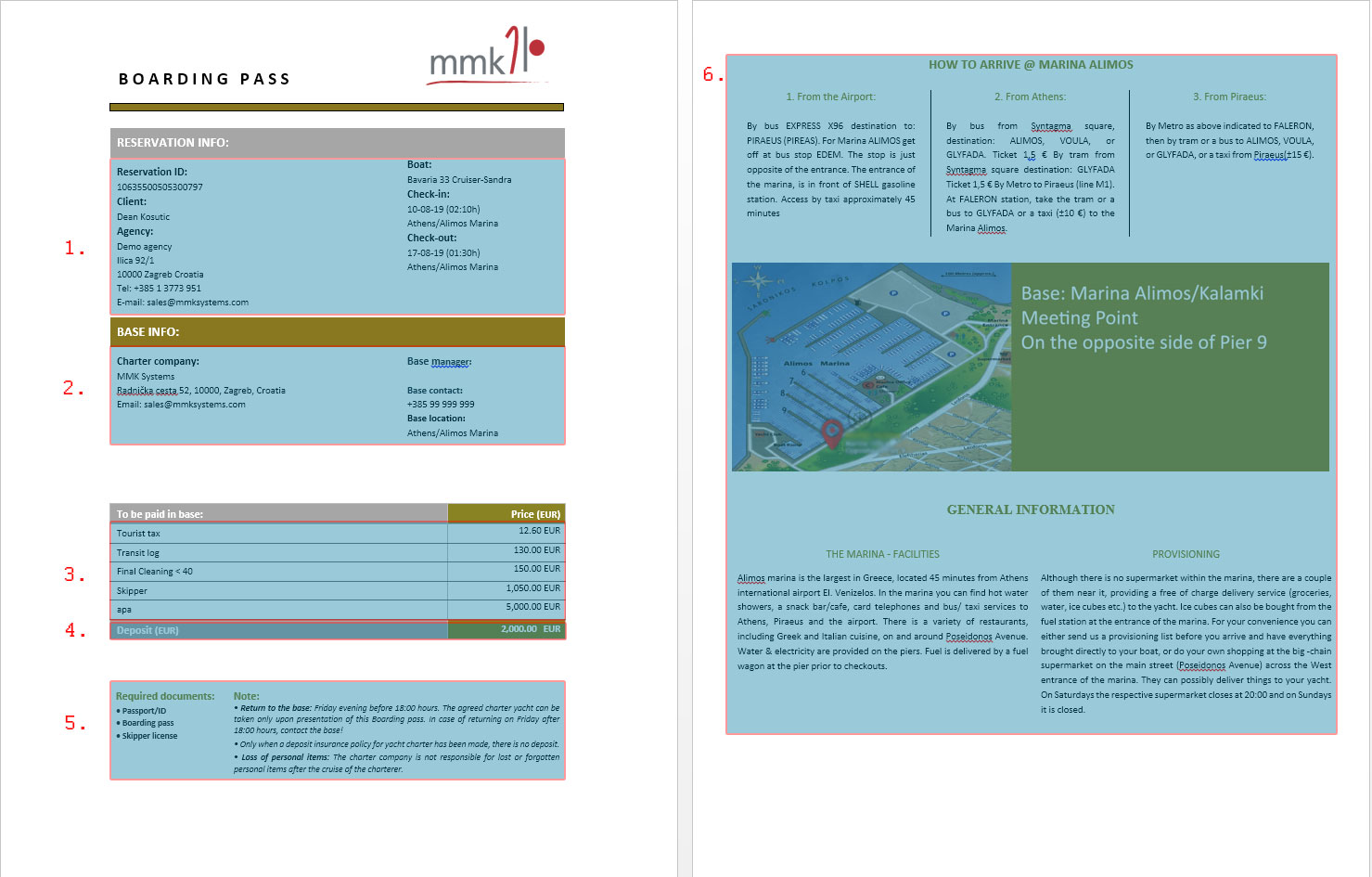 While you are previewing the merged document, you can make any additional change like you would in a ordinary Word document and save them.
The saved data will be on the merged board pass on that particular reservation, but it will not affect the original template.
After you are satisfied with the board pass, you can save it as PDF from Word and send it by e-mail.