To find discounted weeks click on Special Offers in the menu and change the offer type to Discounted weeks (1.). Next you can use the Yacht Search engine (2.) if the results need to be filtered by country, sailing area etc, or you want the different date or duration and perform the search.
Finally you can change how many results per page you want (3.) or change the parameter according to which the boats are sorted (4.) in the results and whether they should be displayed in ascending or descending order (5.) and press refresh list (6.) in order for changes to take effect.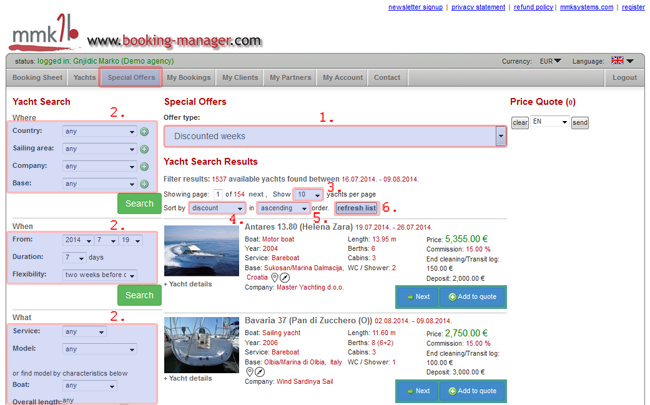 Sending the price quote from Special offer
To send the price quote simply press Add to quote (1.) to place a boat in the Price Quote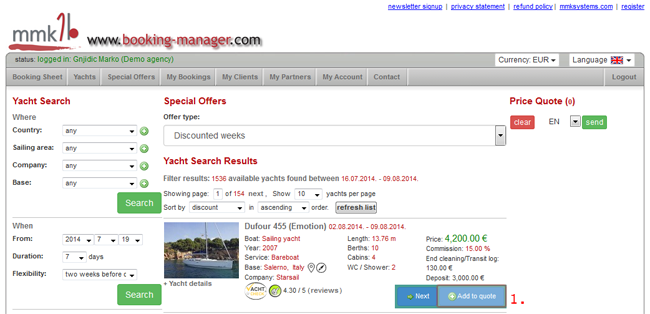 Then the boat will appear in Price Quote on the right (1.) and you will be able to modify the discount (2.) and select the language (3.) before sending (4.).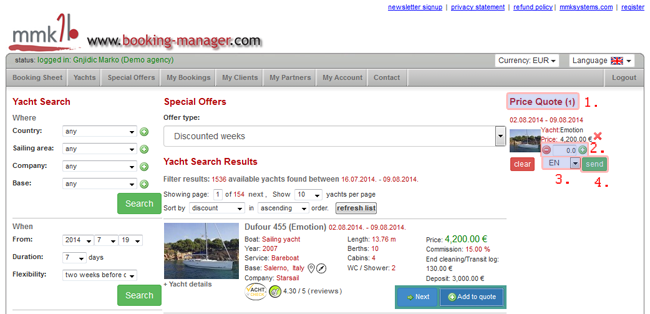 Once you clicked Send you open an e-mail where you need to write the receiver e-mail address (1.), e-mail message to your client (2.) and finally Send (3.) the quote.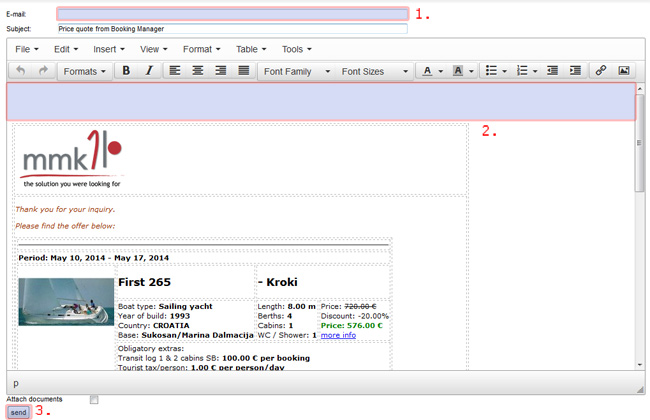 Creating an option or reservation from Special offers
If you want to make an option/reservation from Special offers click on Next (1.).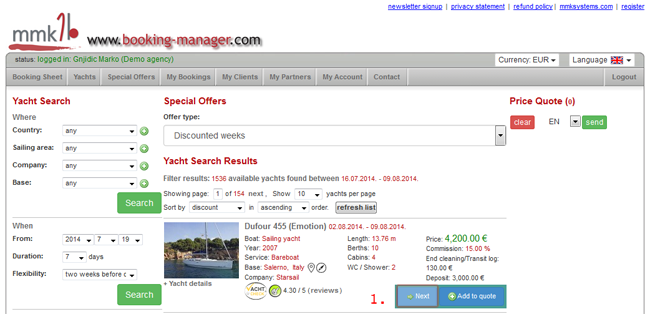 On the Booking request form you then select the number of crew (1.) add discount in addition to the discount that charter gave (2.) (Note that this discount you are giving on the amount of your agency commission) and you can select additional Optional extras (3.) to be included in the booking. You can select the payment method if you have several entered (4.).
In Contact info you can either choose the existing client from the address book (5.), select the language in which documents are sent (6.) or enter a new client (7.).
You can then enter the message for your client (8.) or remove the check if you do not want to send him an e-mail (9.)
Finally you can either send a Request (10.), Open an option (11.) or make a Direct booking (12.).