Since the Booking Manager portal includes over 9600 boats in Real-time available fleets and more than that if you include the boats with unknown availability it might be difficult to find the exact boat you are looking for without the use of the search filters.
The filters are split into 3 main categories and by default include only real-time available fleets.
1. Where?
Filters in Where has the purpose of narrowing the search to a specific country, geographic location, charter company or particular base. All filters are by default set to any. Also, all of the filters allow for multiple entries by using (+) Buttons to add more destinations.
Country - In this selection, you will find the selection of countries where there are real-time available boats and the total number of boats available in each country in brackets. If a country is selected, the Sailing area, Company and Base selects automatically adjust to show data only from the selected country.
Sailing area - This filter narrows the search down to a certain geographic area either all of them or just the relevant ones if you selected a country. Each area is shown the total number of boats available in brackets.
Company - In this select you can choose a particular charter provider and the total number of boats in the fleet is visible in brackets. Depending on the previously selected Country and/or Sailing area the list displays all of the charter providers or only a selection
Base - The last selection is Base where you can select a particular base either from the full list or a narrowed selection if you previously selected the Country and/or Sailing area and/or Company. The number of available boats in brackets is the total number of boats in that base regardless of whether you made the Company selection or not.
When one base is selected you can also expand the search In the nearby area by using the Radar slider.
2. When
The next filter section helps you find boats for a certain period. The default search date is the first following Saturday for a 7-day duration and includes only boats that have check-in on that day.
From - In From selection you can select a year, month and starting date of the charter in the current or next year and all available dates are Saturdays. Note that you will receive only boats that have a price defined in a given period.
Duration - Duration can be set in 7 days intervals, 7 is the default.
Flexibility - This gives you the possibility to, besides filtering availability on a specific day, get available yachts in a specific week, +/-1 week, +/-2 weeks, or in a whole month.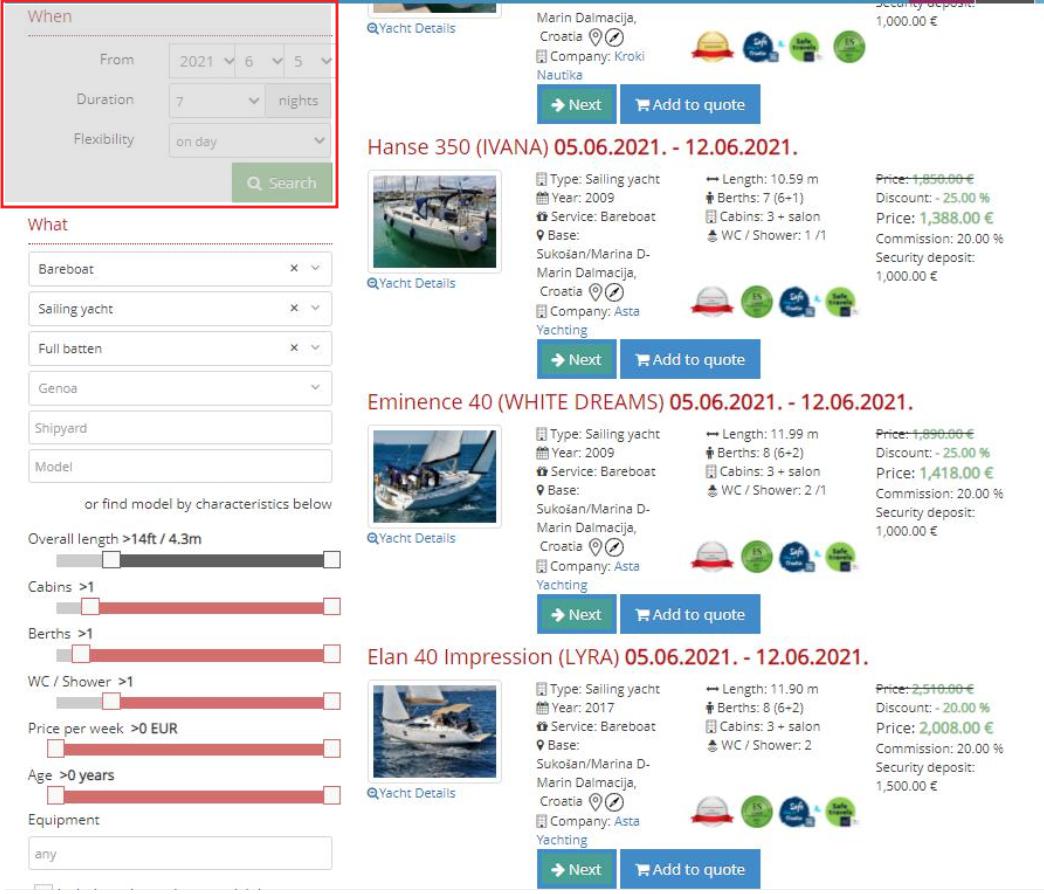 3. What?
In this last section, you can define your search according to Service type (bareboat, crewed, cabin etc), Type (Sailboat, Catamaran etc.), Mainsail type, Genoa type, Shipyard, specific Boat model, or by boat characteristics like length (in meters or feet), number of cabins, number of berths etc. Also, you can filter according to a particular equipment item.
Furthermore, you can choose to include boats without availability confirmation, but these boats can not be booked directly as they are subjected to confirmation by the charter company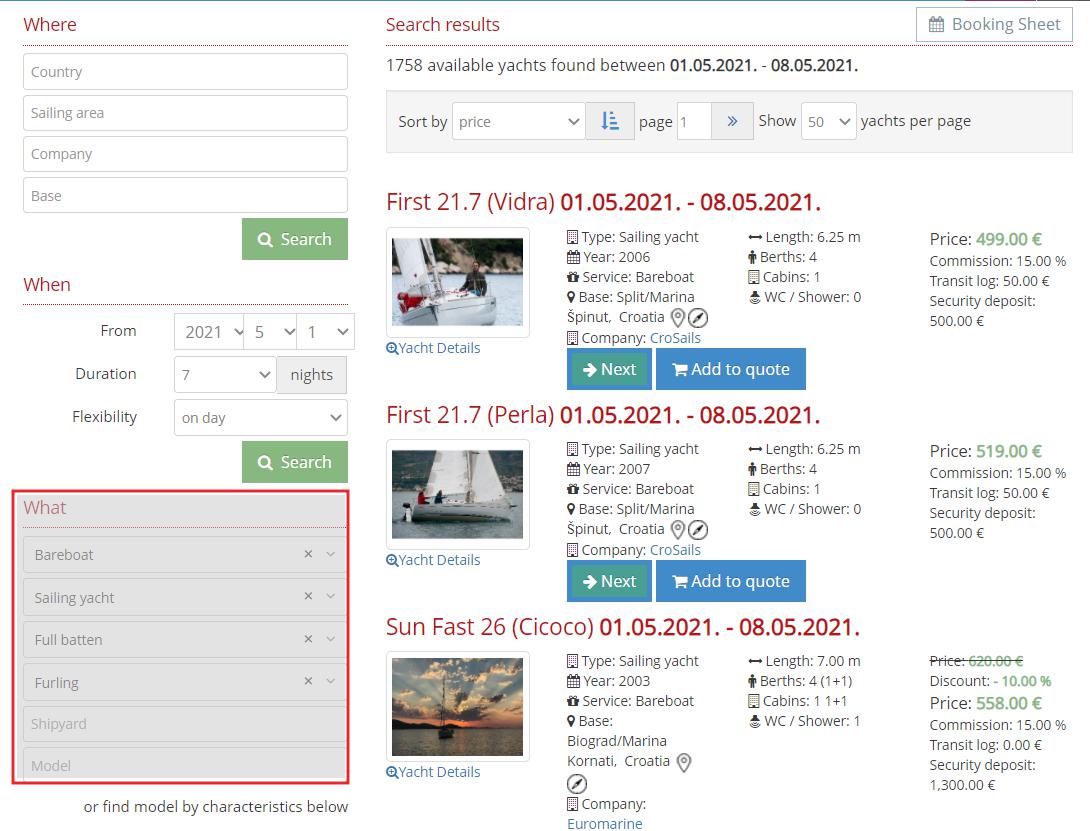 4. Additional filters
If you're not sure which model of the boat you are looking for, you can use additional sliding filters such as
Overall length-by length in meters/feet
Cabins-by number of cabins
Berths-by number of berths
Wc/Shower-by number of wc/heads
Price per week-filters by price, lowest to highest
Age-Select a boat by age
Equipment-Filters the boats by equipment categories
Yachts without availability confirmation-shows yachts for which charter company needs to confirm option if placed
Search results
After you made your selection of filters and press any of the Search buttons you will receive the results according to your filter parameters.
If you receive no results that means that there are no available boats in the requested period that match the requested parameters, so you will need to go back and use a broader search.
Parameters like where, when and what can be mixed per your requirements, so, for example, your search might look like this: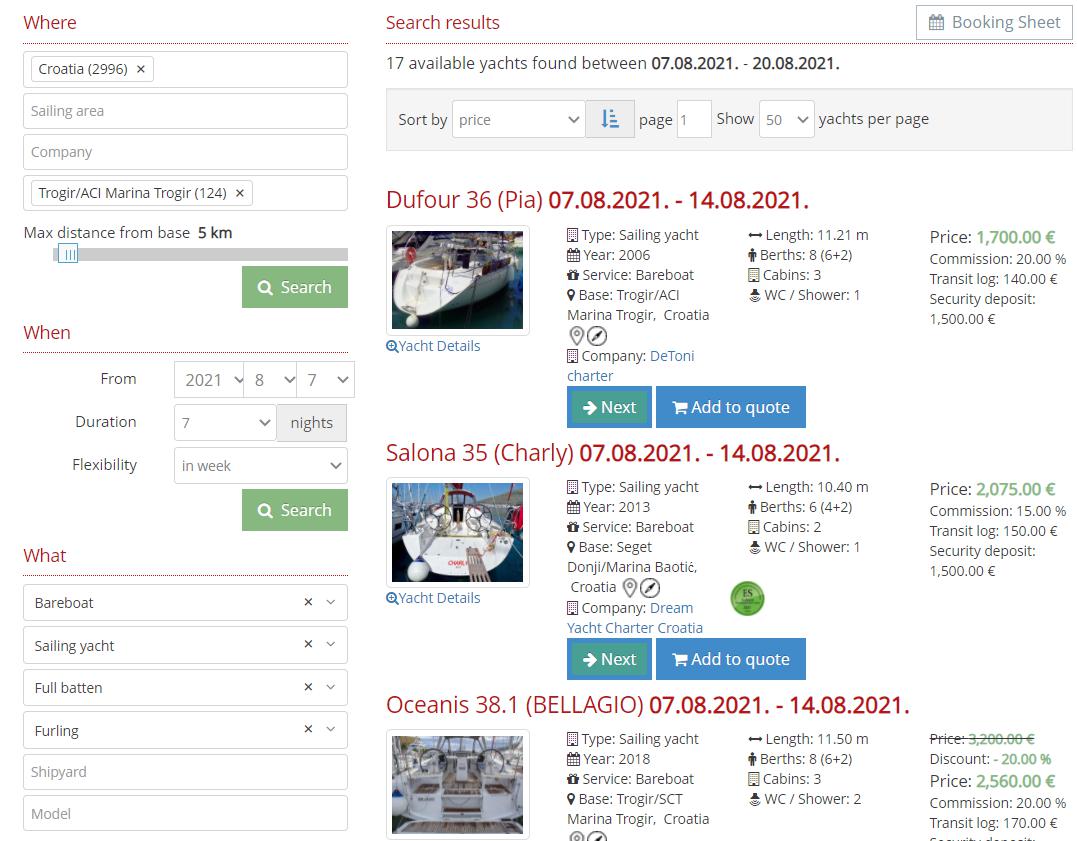 After you've selected all the filters, you can send the price Quote