Booking Manager gives you the possibility to enter payments to reservations so you are able to keep track of you income.
In order to enter a payment to reservation open Work > Reservations and select the reservation for which you want to enter the payment (1.)

Next, select Payments tab (2.) and click on New (3.). Next, you get Input window where the system offers you the payment number that is next in sequence (4.), but you are free to enter any other number or delete the offered the number and open the payment without number if you require.
Click on OK (5.) to finish opening the payment.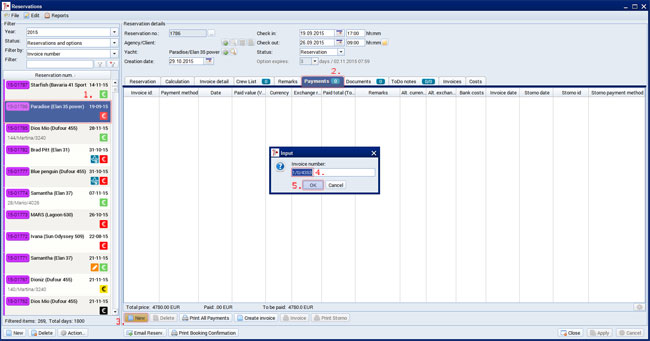 Once the payment is open, it will get the number (1.), default payment method (2.), date (3.) and currency from the default payment method (5.), but you need to enter the amount of the payment (4.).
In order to do that, double click on the amount field to enable editing and enter the amount.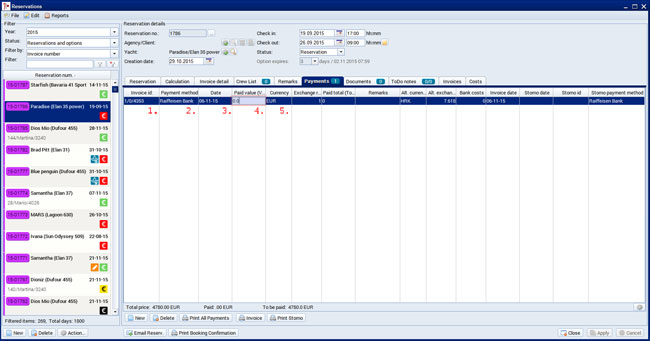 After you enter the payment you can change any parameter at a later date if required. Invoice ID, Data, Paid etc. value require double-click to edit, while Payment method or Currency require single click as they are dropdowns.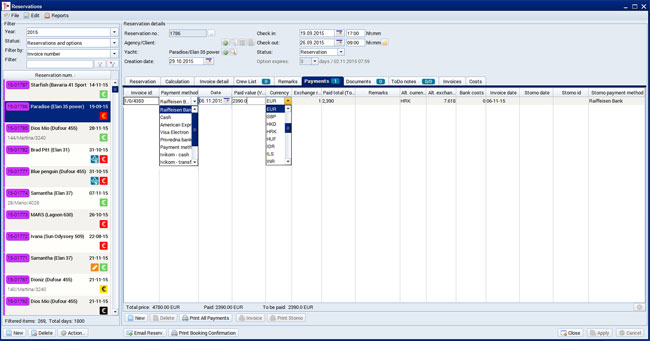 When the payment is entered, Payment tab (1.) will show number of payments entered. Near the bottom it shows the Total price (2.), amount Paid (3.) and what remains To be paid (4.).
You can now print the advance payment invoice in any of the available languages (5.) or enter another payment by clicking on New (6.)