Sometimes it is very useful to actually visualize the destination base in Google Maps to find additional useful information for your client, for example how long does a client need to drive to reach the base from his home or which other activities he can find near the destination.
For that purpose Booking Manager provides a Location button which quickly visualizes the base in Google Maps where you can find directions for your client. In the example below we found a yacht in Zadar, Croatia and we would like to know how long would it take us to drive there from Vienna, Austria, So we click on the "Location" button next to the boat (1).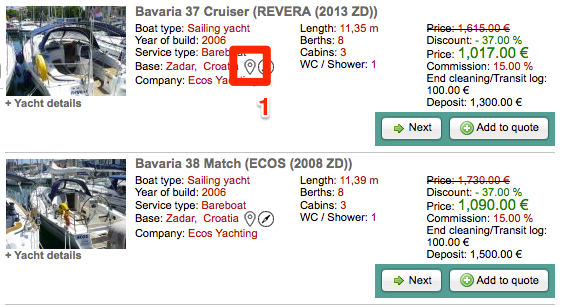 Next we are taken to the Google Maps with or destination selected so we can click on "Get directions" (1) and enter our start address, and ask for directions. Google Maps quickly calculates that it takes 640 km and 5 hours and 56 minutes to reach Zadar from Vienna.