Booking Manager enables you to send crew lists to e-crew system. This feature is most important for Croatian companies because crew lists are compulsory by law, but is also very useful to all others because crew members are saved to the address book.
Connecting your boats to e-crew
In order to properly send your crew lists you need to enter a few things in the booking manager
First thing required to be entered are ecrew username and password. They are the same as if you were loging in online.
Go to Preferences > Company settings > MUP /Ecrew (1.) and enter Username (2.), Password (3.) and press Apply (4.)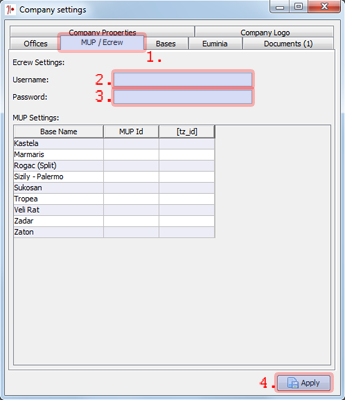 Second thing that is required is set on the boats themselves.
Go to Work > Yachts, select the boat (1.) and enter the name of the boat (2.) and the boat registration (3.).
Registration is needed only for smaller boats that have it, on larger boats the name is the registration and Reg. ID field can remain empty.
Repeat this for all boats.
Name and Reg ID must be exactly the same as they are entered on e-crew.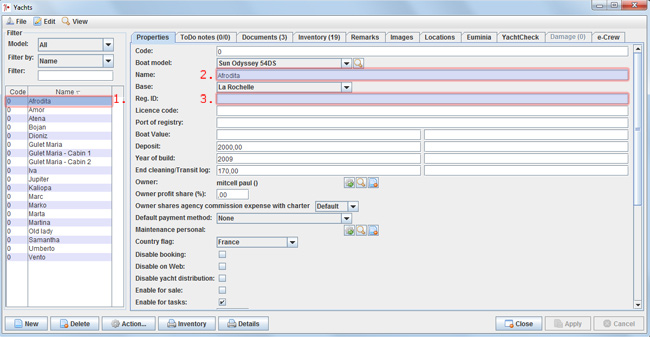 Filling the crew lists
Once you have entered your boats names (and their registrations if they have them) you can proceed to enter the crew list. Go to Work > Reservations, click on reservation (1.), click on Crew list (2.) tab and click on New (3.).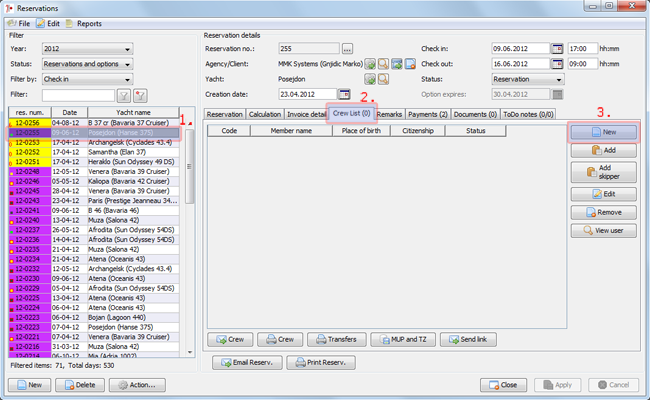 By clicking on New, a new window will open where you can fill in the basic data and select whether the guest is a crew member or skipper under General (1.). Note that each list must have a skipper listed.
You can proceed to enter more data about the crew member under Details (2.).
When you are finished you can press Save and new (3). to enter another crew member or press Apply (4.) and Ok (5.) to close the window.
All data will be saved in the address book.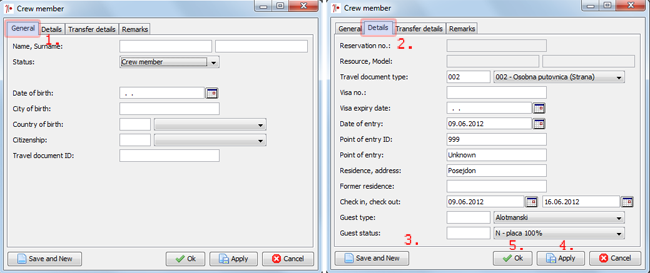 If the crew member or skipper is already entered in your address book you can select them directly from the address book by pressing Add (1.) or Add skipper (2.)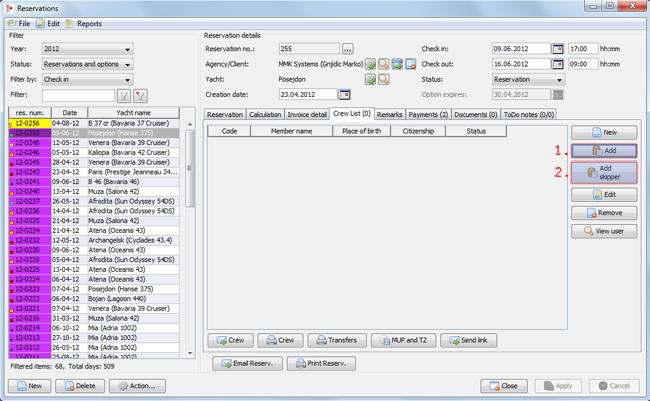 Sending the complete list
Once you completed your crew list press MUP and TZ (1.) to open the send menu and then click on Ecrew export (2.) to complete sending.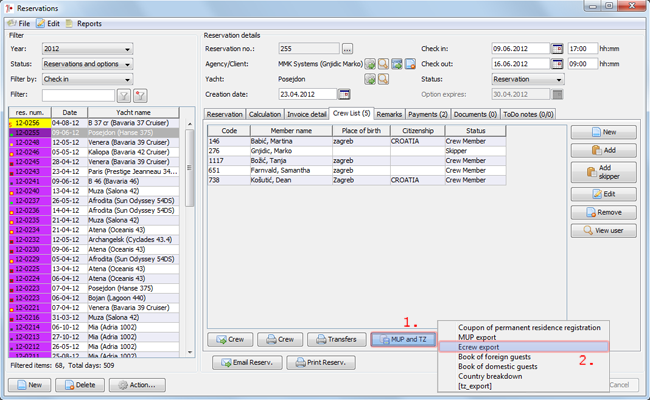 Allowing your agents to fill the crew list themselves
If the agent listed in Reservation details (1.) already has access to the charter's CBM you can send by e-mail the agent a direct link where to directly fill the crew list by pressing Send link (2.).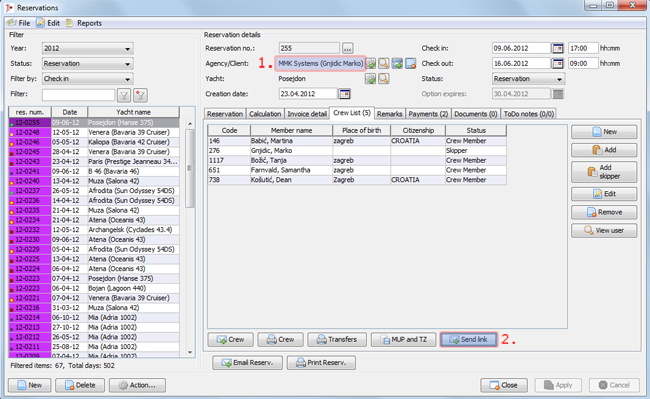 Once the agent clicks on the link the web page in CBM will open where crew can be added to the reservation in the same way as in LBM.